Here is a lovely illustration of a Victorian lady wearing an elegant hat and modelling a beautiful Ladies' Toilette, an outfit designed from two pattern pieces: a Ladies' Coat Polonaise and a Ladies' Skirt. The lady is standing at the bottom of a set of stairs, with her right hand behind her back and her left hand balancing a closed umbrella on the sidewalk. The illustration is from the October 1889 issue of The Delineator magazine.
Here is a black and white clip art version.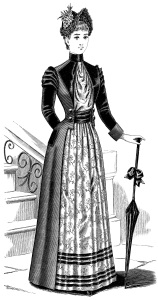 Click on images to enlarge.