Here is an illustration of a Victorian lady modelling a Ladies' Mourning Costume. The costume is made from black Henrietta cloth and crape. The bonnet is a stylish capote and a crape veil is worn. The illustration is from the October 1889 issue of The Delineator magazine.
Here is a black and white clip art version of the image.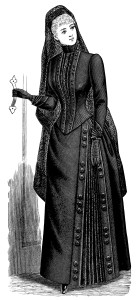 Click on images to enlarge.