This two-page Royal Society embroidery lesson includes instructions for embroidering a pattern that has been printed on the edges and center of an antique night gown. The instructions on the first page, for the stitches and coloring, are as follows:

The daisies are worked in loop stitch in Pink. There are two rows of stitches in darker Pink around center, woven in and out alternately, not going through material. The center is solid and dots are Frenchknots. The small flowers are Frenchknots in Blue, with centers in Pink.
All Frenchknots are made with half a strand twice around the needle.
The line forming yoke is worked in loop stitches, with a space between each, in Pink as indicated. The straight lines are eyelets for ribbon, buttonholed and cut through the center afterwards.
The scallops are buttonholed.
Use half a strand for all embroidery with exception of scallops and buttonhole, which are two threads.
Use crewel needle No. 7 for embroidery.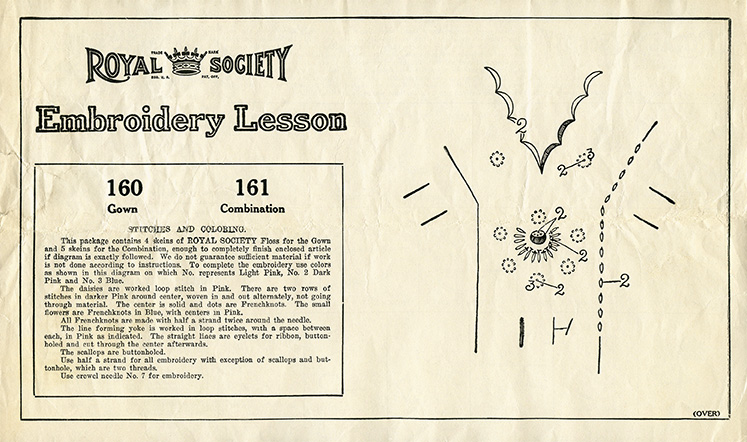 Click HERE to download the full-size JPG version of page one.
The second page includes 17 illustrated embroidery stitches. They are: cobweb stitch (with eyelet center), eyelet stitch, satin stitch, outline stitch, buttonhole stitch, couching stitch, cable stitch, darning stitch, feather stitch, French knot stitch, seed stitch, cross stitch, chain stitch, back stitch, loop stitch, shadow stitch, and long and short stitch.

There are two small advertisements, for Royal Society instruction books, on the right-hand side of the page. The Knitting and Crochet Book No. 13 was priced at 10 cents. It was copyright 1918. Royal Society Crochet Books Nos. 2-12 also retailed for 10 cents each and a Royal Society Album of Cross Stitch and Embroidery was available for 25 cents per copy.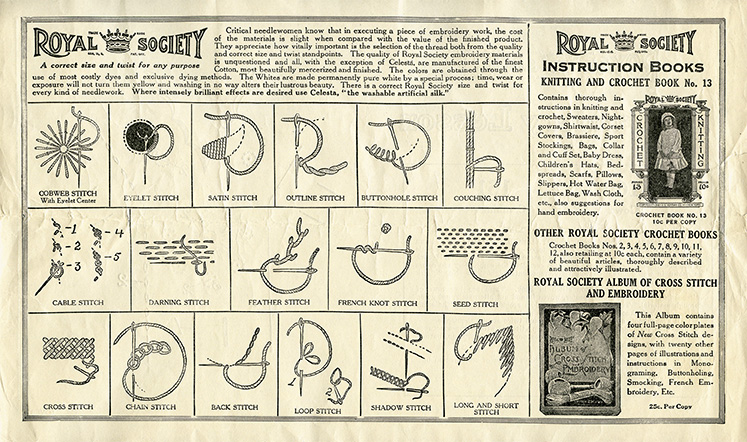 Click HERE to download the full-size JPG version of page two.

These Royal Society embroidery lesson pages were included in a pattern envelope I purchased at an antique shop recently. The original nightgown and five strands of Royal Society embroidery floss were also included. While the embroidery floss has maintained its bright color, the envelope is tattered and taped together. The embroidery on the nightgown was never started.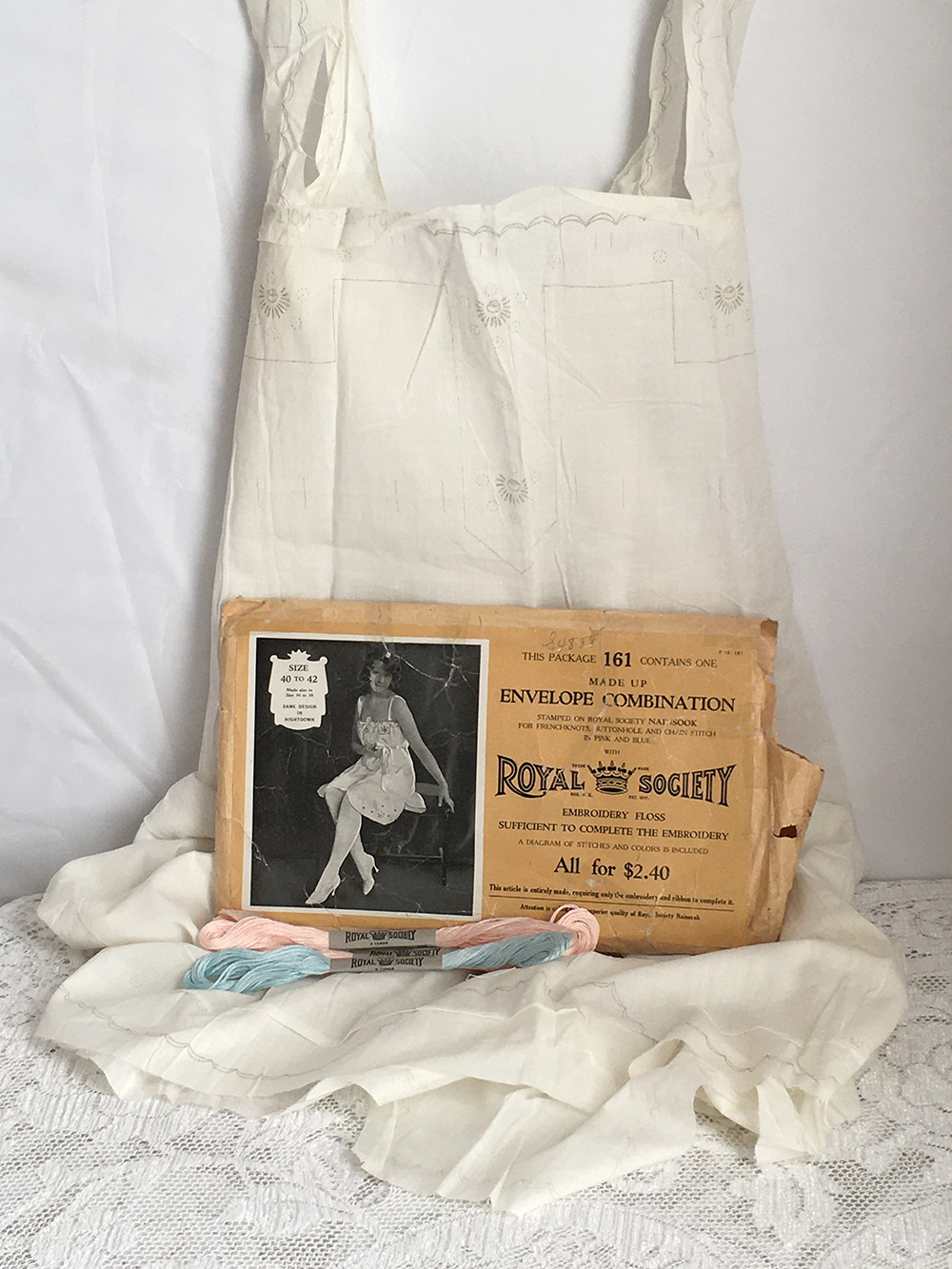 February 2, 2020 Edited to add (by request) a high-resolution file of the Royal Society logo.

Click HERE to download the PNG version of the logo.
– – – – – – – – – – – – – – – – – – – – – – – – – – – – – – – – – – – – – – – – – – – – – – – – – – – – – –
New in my Etsy shop this week is a set of printable coffee themed vintage style flashcards.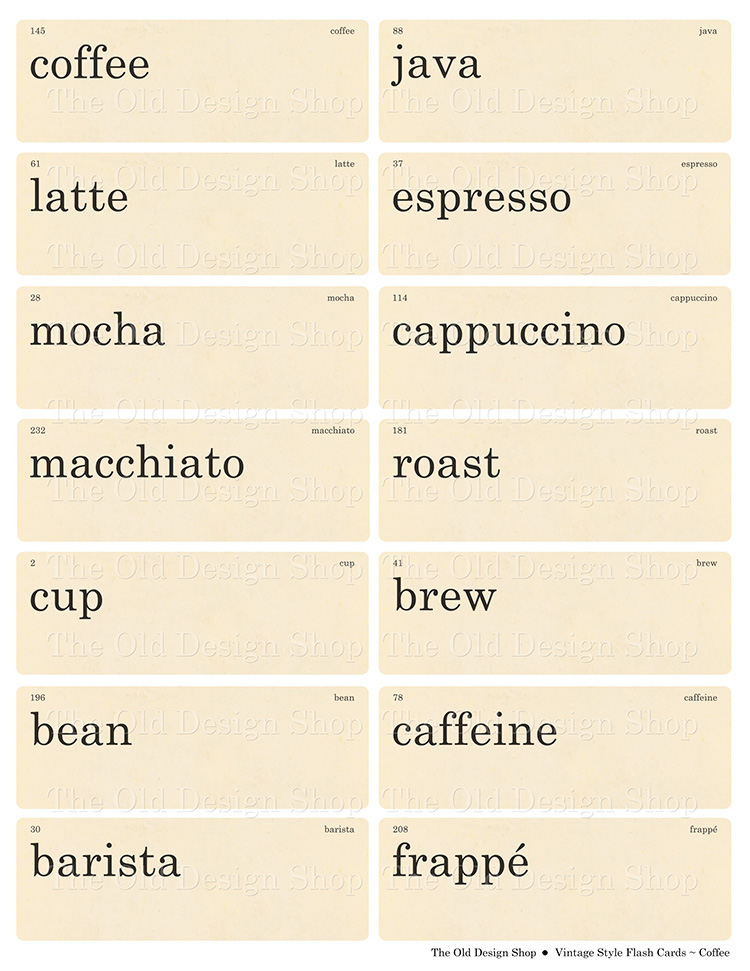 Also new to my Etsy shop this week is a set of 17 individual printable vintage documents.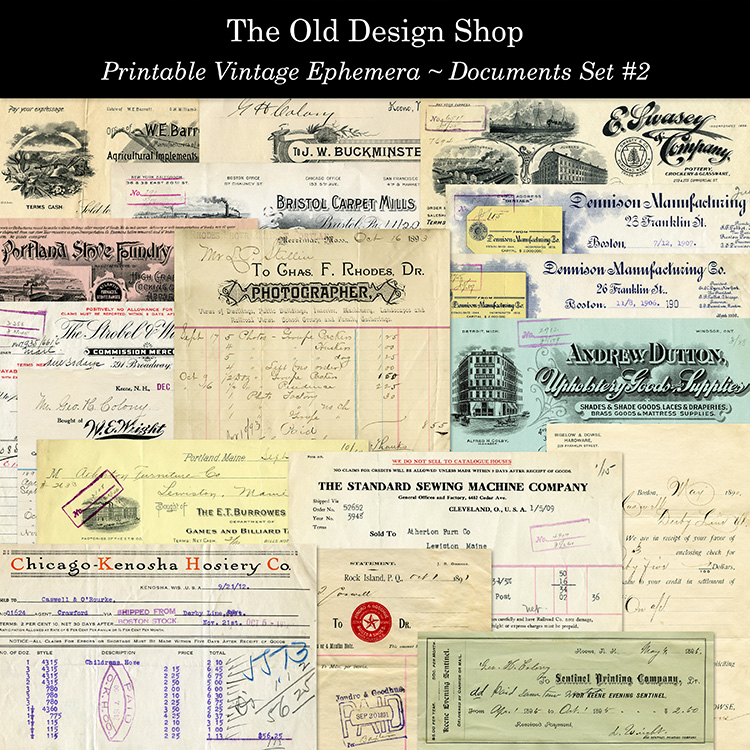 Preview images are linked to my Etsy shop.