Below are two beautiful autumn botanical book plates. Our summer has only just begun and I'm not ready for fall; however, it will be here in no time. Perhaps some of you are already working on fall projects?
Plate 1 features an illustration of Amelanchier canadensis, autumn foliage. A description from the book is typed below the illustration.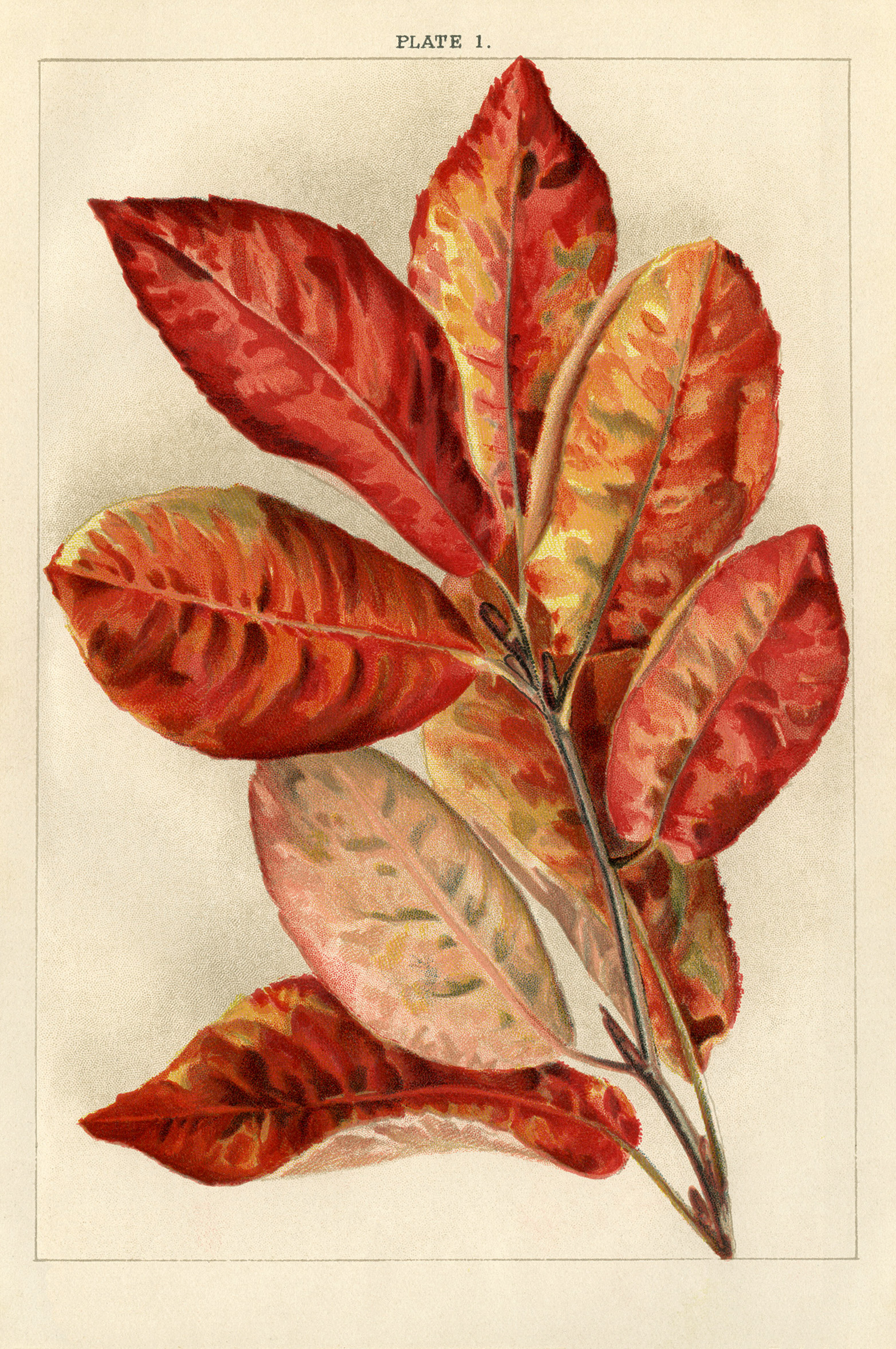 Amelanchier – These are pretty Rosaceous shrubs and bushes, thriving in a rich loamy soil, and remarkable, not only for the beauty of their blossom, but also for the autumn colouring of their foliage, and their coloured fruits. They can be increased by sowing the seeds when ripe, or by inserting cuttings or "slips" of the well-ripened shoots in autumn; by layering; or by grafting on stocks of the common A. vulgaris."
A. Canadensis – This handsome N. American shrub grows 6 to 8 feet or more high, and is popularly known under such names as "June Berry," "Shad Flower," and "Grape Pear." It has oblong toothed leaves, which are remarkable for the brilliant hues (as shown on Plate I.) they assume in autumn. The snow-white flowers appear in April and May, and later purple-crimson fruits take their place. There are several varieties of this species, of which perhaps A. sanguinea, with shorter trusses of flowers, is best known.
The second autumn botanical book plate I'm sharing today is Plate 12, which includes illustrations of Ribes aureum in flower, Ribes aureum, autumn foliage, and Ribes sanguineum album. A description from the book is typed below the illustration.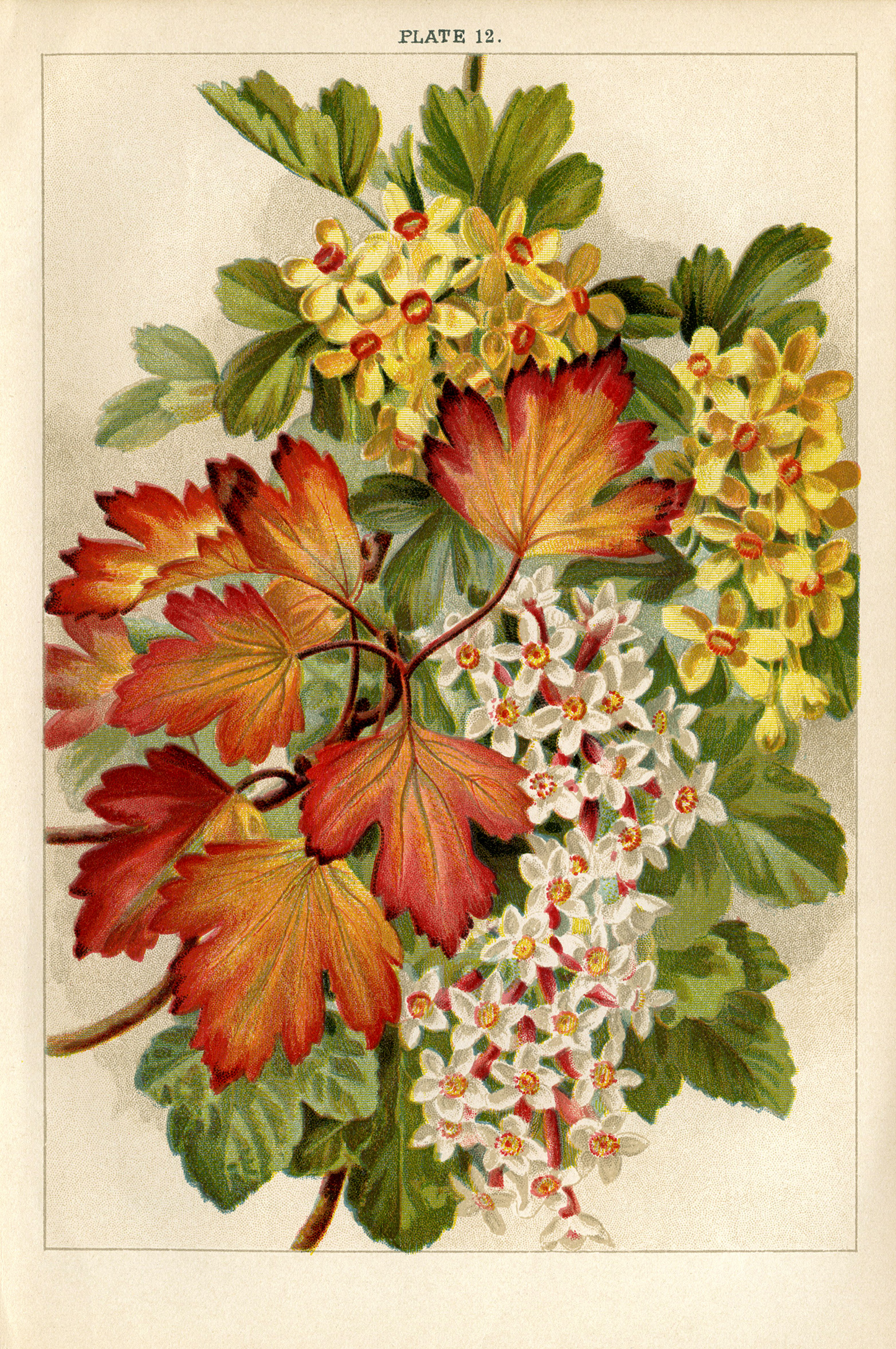 Ribes sanguineum – This is the well-known Flowering Currant from N. America. It grows 4 to 10 feet high, and has lobed and toothed leaves and drooping tresses of deep or pale rose, crimson, or white blossoms, according to variety. One (album) s shown on Plate XII., and gives a good idea as to its ornamental character. Another good flowering currant from N. America is R. aureum, the yellow blossoms of which are also shown on Plate XII., as well as a spray of the beautiful autumn tinted foliage. The "Fuchsia-flowered Currant" (R. speciosum) is a Gooseberry-like shrub with spines beneath the leaves. It is a native of California, and grows 6 to 8 feet high, and produces its deep red or crimson blossoms in May. These droop from the joints, and with the conspicuously protruding stamens remind one of some kinds of Fuchisia. Unfortunately it is not so hardy as the other two species, and requires the shelter of a wall in cold localities.
The Flowering Currants, either by themselves or in groups, are very handsome and flourish with ordinary care; but they should have plenty of air and light and room to develop. The old wood should be cut out each year, and any very long young shoots just have the tops taken off. By always retaining branches from one to three years of age a fine display of blossom can be secured.

I scanned these autumn botanical book plates from a book titled Beautiful Flowering Trees and Shrubs for British and Irish Gardens. The book was written by John Weathers. The plates were illustrated by John Allen. The book was published in 1903.
– – – – – – – – – – – – – – – – – – – – – – – – – – – – – – – – – – – – – – – – – – – – – – – – – – – – – –
New in my Etsy shop this week is a coffee dyed printable paper pack. A vintage railway form is digitally stamped on the left and on the right of each page. Ink saver printable pages with the images on a white background are also included in the listing.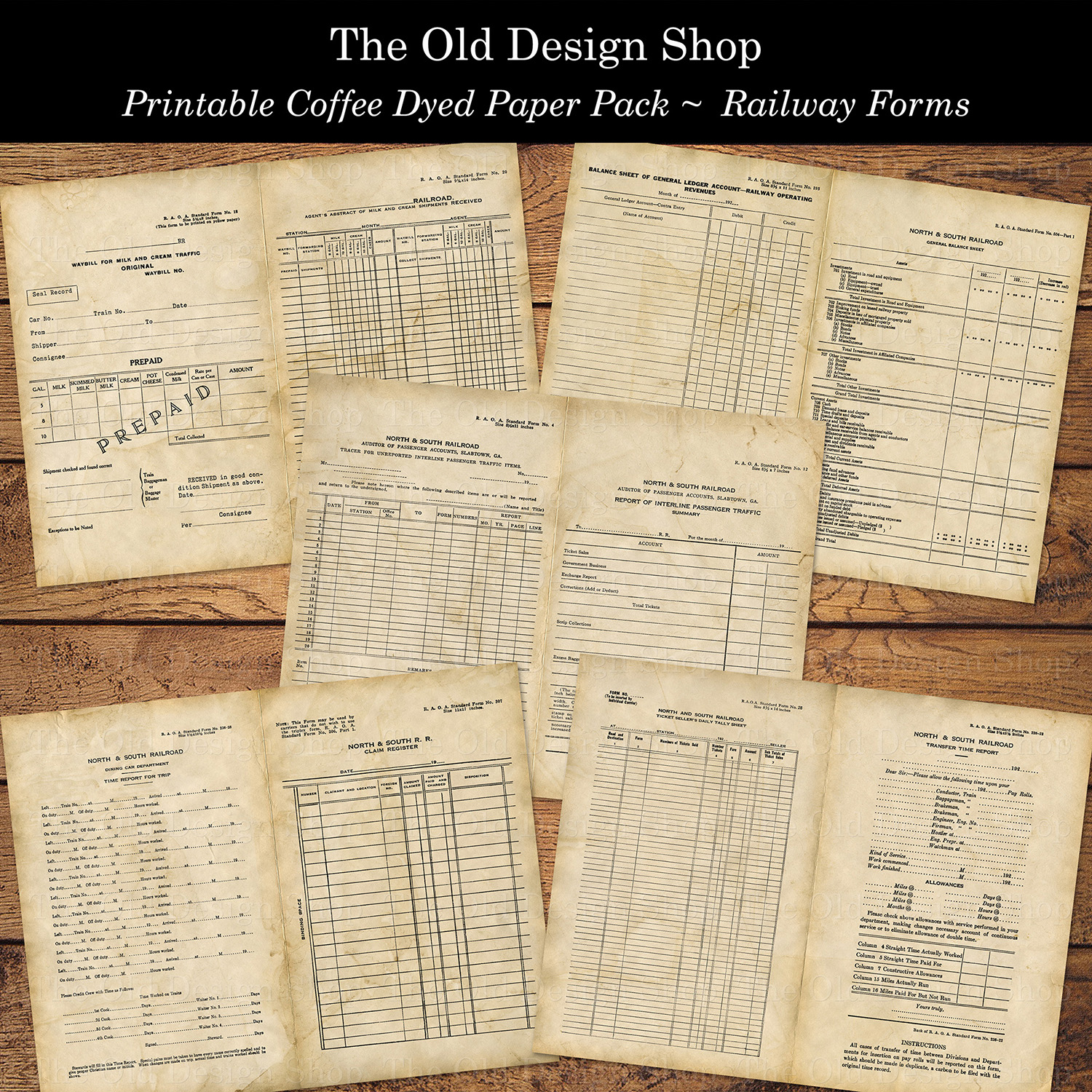 Preview image is linked to my Etsy shop.