This vintage storybook illustration, titled A Trial of Patience, features a young girl helping her mother to wind a skein of wool. The mom is seated on a chair winding the wool into a ball. A small dog is curled up and resting at her feet.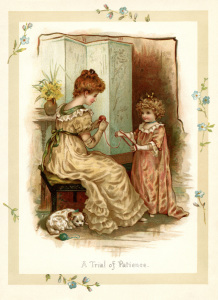 The image is from a storybook titled The Sunbeams and Me, by Helen Marion Burnside & Nesbit, Mary Dickens, M. A. Hoyer, and others, illustrated by Helen Jackson, Jane Willis Grey, Fanny Bowers, and others. The book was published by Raphael Tuck & Sons in the late 1800s.
Click on image to enlarge.