The front of this Victorian printable advertising card features a lovely illustration of a lady out in a garden or meadow with her daughter and their cute brown dog. The mother is wearing a beautiful blue dress and a white hat and the daughter has on a pretty white dress with a large pink sash. She is also wearing a white hat. The mom is picking pink blossoms from a tree and the daughter is picking flowers that are growing from the ground.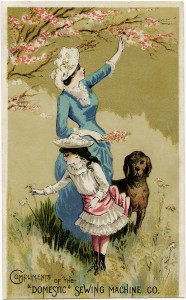 The advertising on the back of the card includes an illustration of a sewing machine within a star and claims that the Domestic Sewing Machine "Stands At the Head", is "The Star That Leads Them All", is "unequalled" for "simplicity" and "durability" "and is "light running".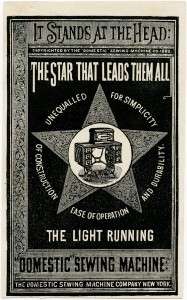 Click on images to enlarge.