This vintage catalogue listing features five adorable teddy bears ranging in price from 45 cents for a basic 12" teddy bear to $1.53 for a 17" plush teddy bear. The ad is from the 1916 Sears Roebuck and Co. winter catalogue.
Here is a black and white clip art version of the illustration of teddy bears from the ad.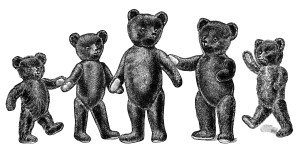 Click on images to enlarge.