This vintage catalogue page features two old-fashioned couches. The style illustrated at the top of the page is a Quarter-Sawed Oak Couch; the style illustrated at the bottom of the page is a Fabricord Leather Couch. The page is from the Universal Home Furnishers catalogue published by the Spiegel May Stern Co. in 1908.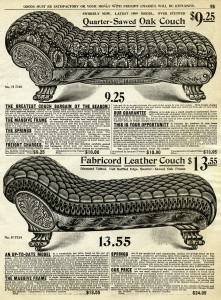 Here are black and white versions of the couches from the page.
Click on images to enlarge.