This fun vintage Christmas dog postcard features an illustration of a fluffy reddish brown and white dog sitting "pretty" in front of two wrapped Christmas gifts. The gifts are both wrapped in plain white paper, one is finished with a green bow; the other is finished with a red bow. A sprig of holly and berries frames the wrapped gifts to the left. Another sprig of holly and berries frames the dog on the right side of the postcard. In place of a collar, the dog is wearing a pretty red ribbon that has been tied into a bow. The red color matches the red of the holly berries and the bow tied on the gift behind him. The greeting on the upper right portion of the postcard, on a blue background, is:

A Merry Christmas
Inside, outside, upstairs, down
Hope you have the happiest Christmas Day in town.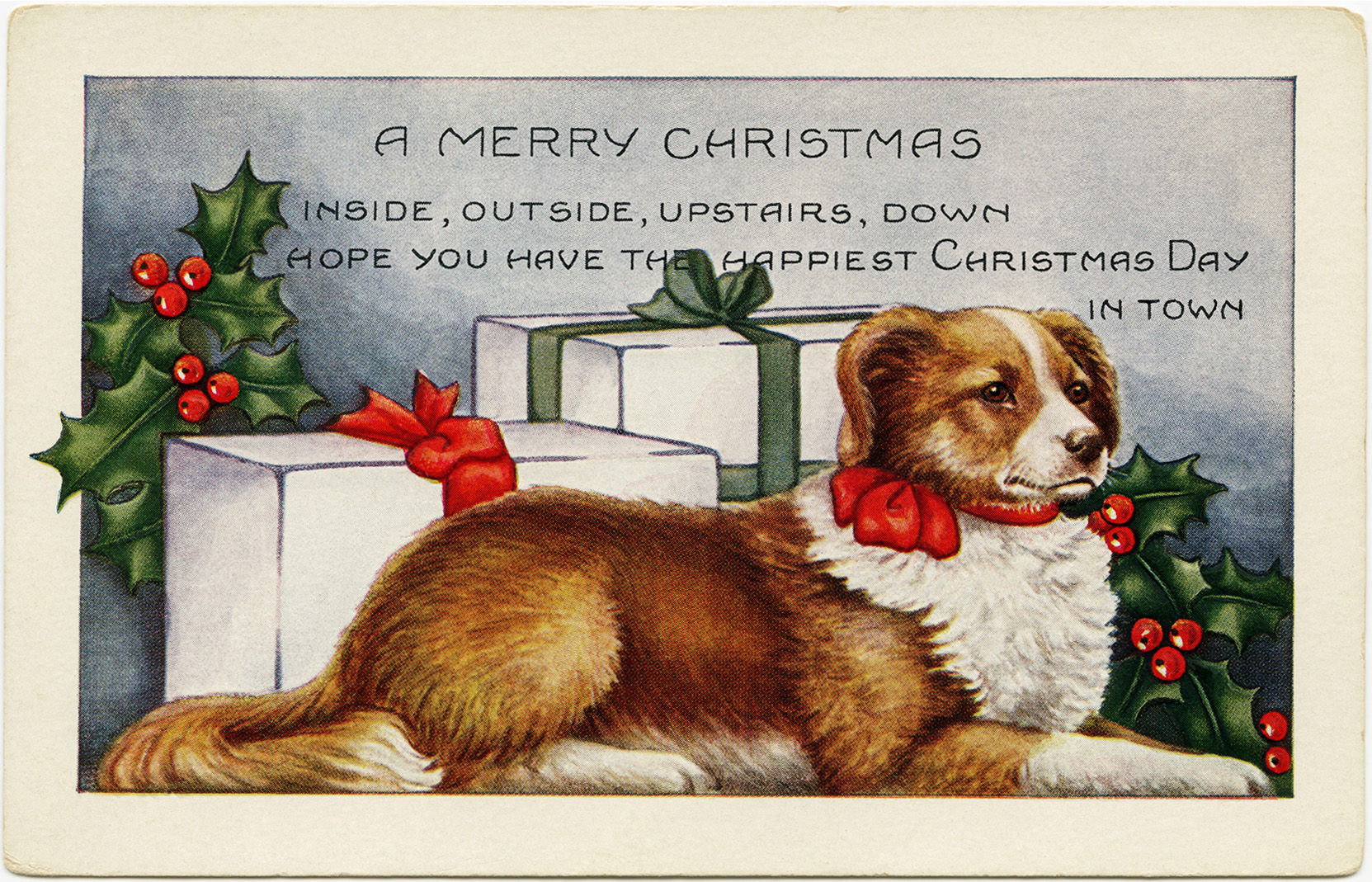 Here is the back of the vintage Christmas dog postcard. It is a Whitney Made vintage postcard. The left side is designated for correspondence and the right side is for the address only.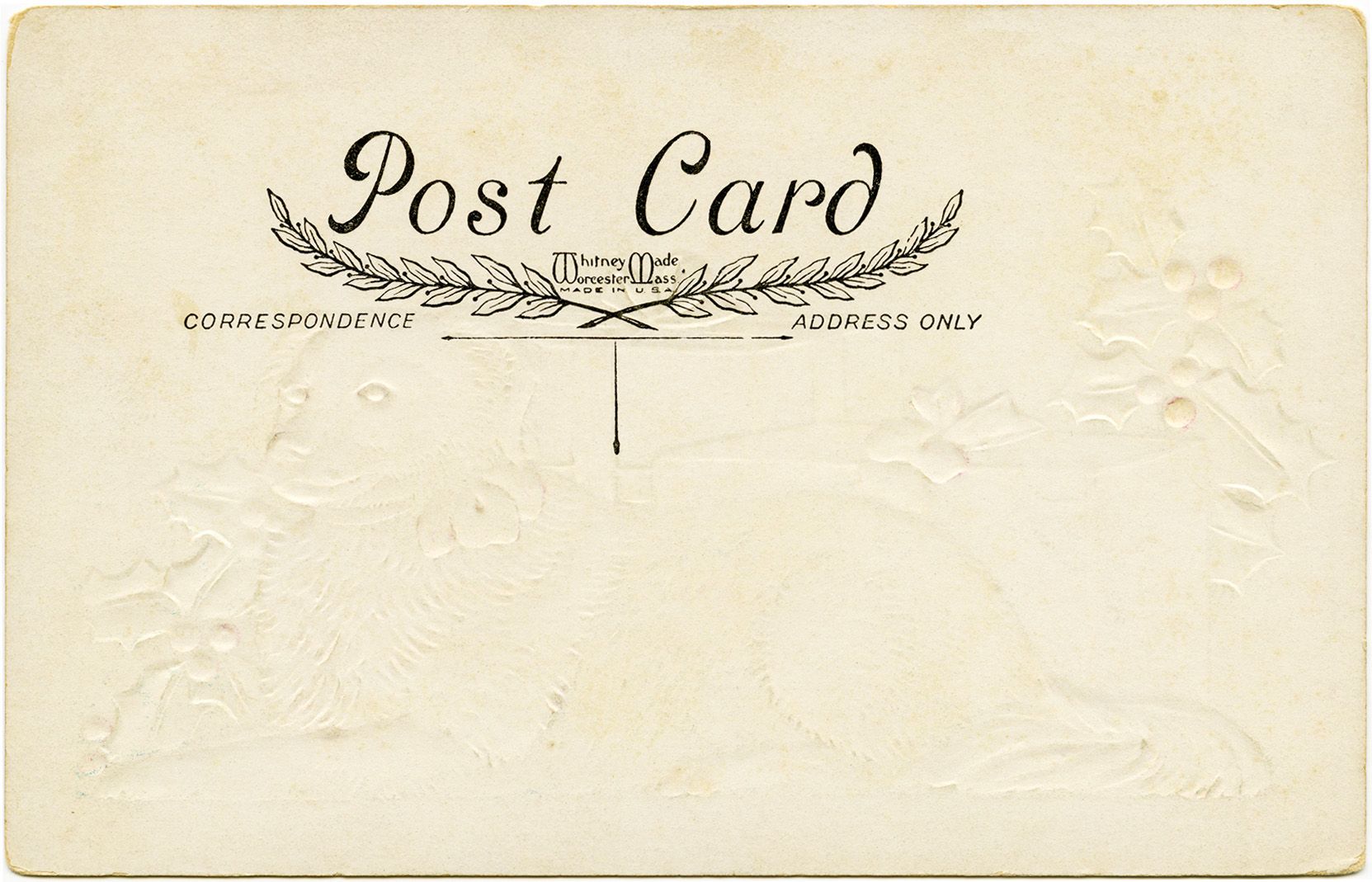 – – – – – – – – – – – – – – – – – – – – – – – – – – – – – – – – – – – – – – – – – – – – – – – – – – – – – –
New in my Etsy shop this week is a printable set of ATC size cards. Each of the cards includes an illustration of a vintage rose on a dictionary page. The set includes a printable sheet plus a zip folder with the individual files.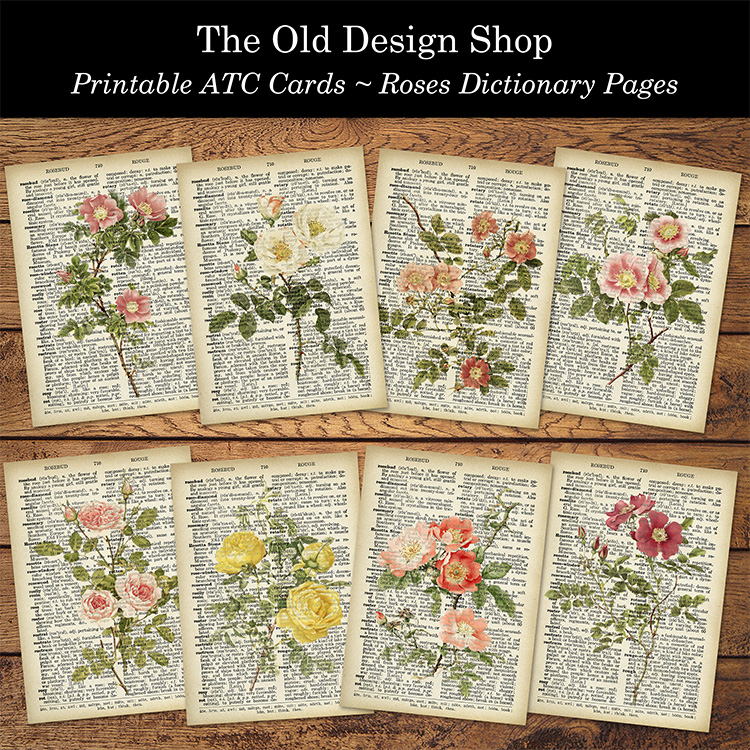 Image is linked to my shop.

I currently have a 70% off sale running in my shop! The sale begins on Black Friday, November 29th, and runs until Cyber Monday, December 2nd. Everything in my shop is included in the sale.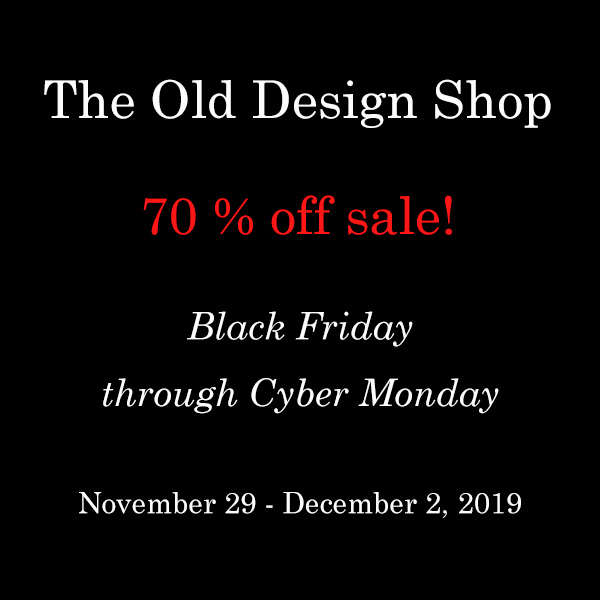 Image is linked to my shop.

FYI: I have recently made a change to my terms of use on the digital products I offer for sale in my Etsy shop. The most significant change to my terms is that I now offer commercial use of up to 5000 (five thousand) production runs for my individual vintage images without a licensing fee.
You may use my individual vintage images "as is" for products such as: rubber stamps, stickers, greeting cards, t-shirts, pillows, mugs, etc.

I also now allow the individual vintage images in my Etsy shop to be used for commercial use for digital designs (such as digital scrapbooking papers and elements); however, the images must be combined with other design elements to create derivative works.  

My personal designs have separate (and limited) commercial use terms. You can read my full terms of use here.