Here is a vintage food label for Wood's baking powder.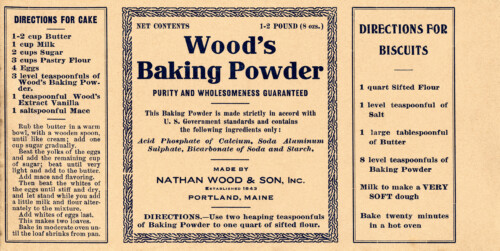 The center portion of the label includes the Net Contents and the name of the product: Wood's Baking Powder. The following information is also included on the center portion of the label:

PURITY AND WHOLESOMENESS GUARANTEED
This Baking Powder is made strictly in accord with U. S. Government standards and contains the following ingredients only:
Acid Phosphate of Calcium, Soda Aluminum Sulphate, Bicarbonate of Soda and Starch.

MADE BY
NATHAN WOOD & SON Inc.
ESTABLISHED 1843
PORTLAND, MAINE
DIRECTIONS. – Use two heaping teaspoonfuls of Baking Powder to one quart of sifted flour.

The left side of the label features the following directions for baking a cake:
1-2 cup Butter
1 cup Milk
2 cups Sugar
3 cups Pastry Flour
4 Eggs
3 level teaspoonfuls of Wood's Baking Powder.
1 teaspoonful Wood's Extract Vanilla
1 saltspoonful Mace

Rub the butter in a warm bowl, with a wooden spoon, until like cream; add one cup sugar gradually.
Beat the yolks of the eggs and add the remaining cup of sugar; beat until very light and add to the butter.
Add mace and flavoring.
Then beat the whites of the eggs until stiff and dry, and let stand while you add a little milk and flour alternately to the mixture.
Add whites of eggs last.
This makes two loaves.
Bake in moderate oven until the loaf shrinks from pan.

A simple recipe for making biscuits is included on the right hand side of this vintage baking powder label. They recipe is as follows:

DIRECTIONS FOR BISCUITS
1 quart Sifted Flour
1 level teaspoonful of Salt
1 large tablespoonful of Butter
8 level teaspoonfuls of Baking Powder
Milk to make a VERY SOFT dough
Bake twenty minutes in a hot oven.
New in my Etsy shop this week is a digital collection of vintage ephemera, including: blue vintage labels for ground pepper, liniment, glycerine & rose water, admission tickets, Coker Bus Line tickets and booklet cover, a vintage receipt, and receipt booklet cover. Individual files of each image on the page is included in the listing.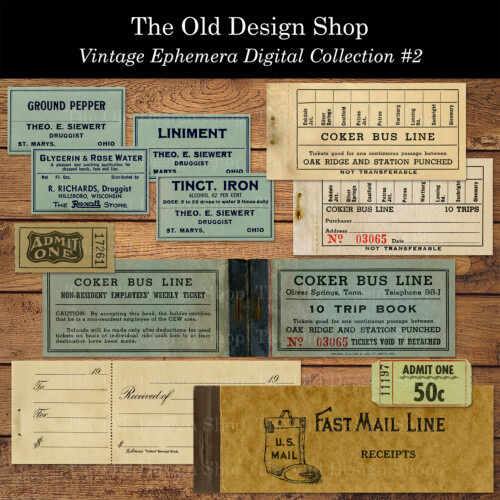 Preview image is linked to my Etsy shop.