Here is a vintage illustration of a poinsettia, a beautiful red flower, with green leaves, that is often referred to as the Christmas flower and one that is used in many Christmas displays.
Here is a second version of the poinsettia image. I've  removed the dark yellow circle and original book page in the background and placed the flower on a white background.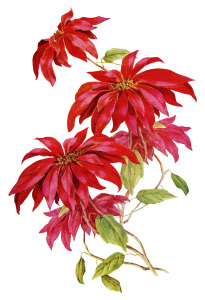 The image is from a book of poetry titled Gems from Whittier, circa 1900.
Click on images to enlarge.