This vintage storybook illustration, Bubbles, features a young Victorian girl in a pink dress and white pinafore blowing bubbles with an old fashioned pipe-shaped bubble blower. The girl appears to be enchanted by the bubbles. Her curious kitten is on the table beside the bowl of bubble-blowing liquid, intently watching the foamy contents. With one paw resting on the edge of the bowl, I think the cat wants to be a part of the fun!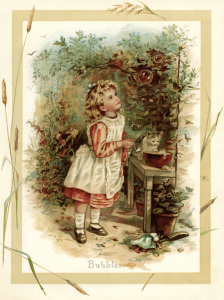 The image is from a storybook titled The Sunbeams and Me, by Helen Marion Burnside & Nesbit, Mary Dickens, M. A. Hoyer, and others, illustrated by Helen Jackson, Jane Willis Grey, Fanny Bowers, and others. The book was published by Raphael Tuck & Sons in the late 1800s.
Click on image to enlarge.