This vintage storybook illustration, titled Poor Dolly's Tired, features a young girl tucking her tired dolly in to bed. The doll has a nice wicker cradle and a soft beige blanket.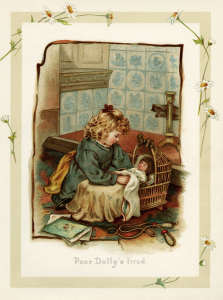 The image is from a storybook titled The Sunbeams and Me, by Helen Marion Burnside & Nesbit, Mary Dickens, M. A. Hoyer, and others, illustrated by Helen Jackson, Jane Willis Grey, Fanny Bowers, and others. The book was published by Raphael Tuck & Sons in the late 1800s.
Click on image to enlarge.