This vintage storybook illustration, titled Love Birds, features a young girl named Evie, and young boy named Jack, standing beside the cage of two turquoise-colored love birds. Jack is offering a piece of chickweed to one of the birds and the Evie is feeding the other bird a lump of sugar.
The image is from a storybook titled The Sunbeams and Me, by Helen Marion Burnside & Nesbit, Mary Dickens, M. A. Hoyer, and others, illustrated by Helen Jackson, Jane Willis Grey, Fanny Bowers, and others. The book was published by Raphael Tuck & Sons in the late 1800s.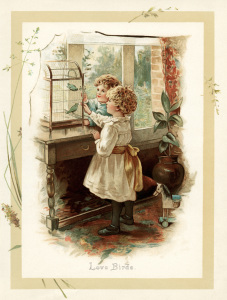 Click on image to enlarge.