This vintage catalogue page features a variety of beauty and hair supplies. Most of the products are for women; a few are for men.
The items listed on the page are: Face Powder and Talcum Holder, Fancy Glass Puff Box, Decorated Glass Puff Box, Elite Powder Leaves for the Complexion, Pocket Book Toilet Case, Handy Toilet Box, Rouge de Theatre, Liquid Rouge, La Dore's Rubyline Rouge (for tinting the cheeks, lips and fingers), Eye Brow Pencils, Danderoff (the wonderful scalp cleaner and hair grower), Hair Elixir (makes hair soft and fluffy), Eau de Quinine Hair Tonic, Barbers' Egg Shampoo, Imperial Shampoo (should be used once or twice a month freely), LaDore's Hair Powder (cleans the hair without water), Pomade Philacome (dressing for hair and mustache), Olive Wax Pomatum (for fixing and laying the hair, whiskers and mustache), French Cosmetique, Magnesium Carbonate, Styptio Pencils (used at shaving to stop bleeding if cut), Hair Curling Fluid, and Blondine (perfectly harmless preparation that will gradually turn the hair from any color to a beautiful blonde color).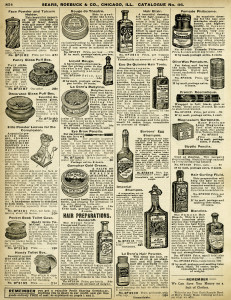 This page of vintage beauty supplies is from the 1907 Sears, Roebuck & Co. catalogue. Click on image to enlarge.