This three-page story, An Island Fable, with adorable illustrations of an elephant, a mouse and a fairy is from the December 1898 issue of St. Nicholas magazine. I think the moral of the story is wonderful:
"Let each be himself, not somebody else,
Nor covet what others may hold.
Each one has his place,
That he can best fill:
Contentment is silver and gold".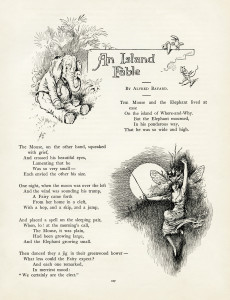 Click on images to enlarge.
I've also created an 8.5″ x 11″ digital collage sheet for you from the illustrations of this story. It's available as a free download on my blog here.