This vintage Christmas illustration features a boy, dressed in medieval attire, riding a horse. The boy is carrying an ornately decorated, medieval-style banner that displays the poem:
St. Nicholas will soon be here
He brings you love, he brings you cheer,
A merrie Christmas,
A glad New Year.
Here is a black and white clip art version.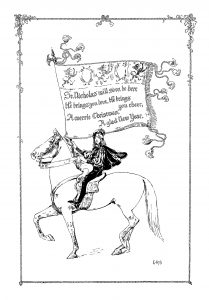 I scanned the original illustration from the December 1897 issue of St. Nicholas magazine.
Click on images to enlarge.