Here is a lovely vintage magazine advertisement for Mary Garden Perfume sold under the Rigaud label. The ad features a happy young couple bundled up for winter, standing outdoors on a snowy street. They have stopped to look into a large shop window and admire a display of Mary Garden perfumes and beauty products. The boxes and bottles of red, green, yellow and white form an attractive and colorful display on three store shelves. Some of the products on display are: perfume, nail polish, lipstick, rouge, cold cream and toilet soap. An illustration of Mary Garden is framed in a circular green shape above the scene. I learned from an online search that Mary Garden was an opera singer.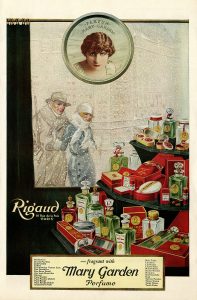 Click on image to enlarge.
The ad is from a 1920 midwinter special edition of the Pictorial Review magazine.