This page, from a vintage magazine, includes an illustrated article about a Santa Claus costume. Illustrations on the page include a Santa doll and seven articles of clothing that make up Santa's costume. The page is from the November 1891 issue of The Delineator magazine.
Here is the first part of the article from a previous page.
And here is the last part of the article from the following page.
For additional creative options, here are black and white clip art graphics of Santa and his costume.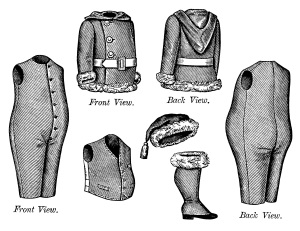 Click on images to enlarge.