This beautiful oval ornamental pattern is made up of intertwined flowers and leaves. It was originally intended for use as an embroidery design. The description from the book is as follows: "We introduce here the central design of a cover for a child's cradle or bassinet, manufactured and exhibited by Messrs. D. & J. Macdonald of Glasgow. The material whereof it is made is cambric, the plain ground of which, by the ingenuity and skill wherewith the needle has been applied, is transformed into "Point", most perfectly executed. The establishment of Messrs. Macdonald is among the most extensive in Glasgow, employing thirty thousand hands."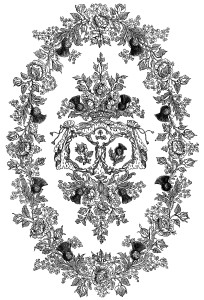 This makes a pretty frame with the center design removed.
The image is from The Art Journal Illustrated Catalogue, published for the proprietors, by George Virtue in London, 1851. Click on images to enlarge.