THE LITTLE JUMPING GIRLS
JUMP-jump-jump-
Jump away
From this town into
The next, to-day.
Jump-jump-jump
Jump over the moon;
Jump all the morning,
And all the noon.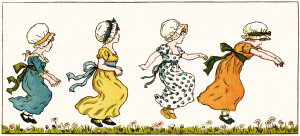 This vintage storybook image and poem, The Little Jumping Girls, is from Marigold Garden by Kate Greenaway, circa 1892. Click on image to enlarge.