Here is an aged illustration of a Victorian lady holding an unopened parasol as she models a luxurious Ladies' Costume. The dress is floor length with long sleeves and a high neckline. It includes several beautiful details including velvet ribbon, braided trim and knotted fringe. The image is from the October 1889 issue of The Delineator magazine.
Plus a black and white clip art version.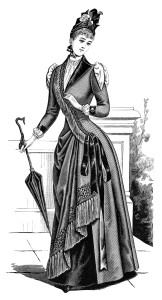 Click on image to enlarge.