Here are two images that include the old Walter Baker & Co. logo La Belle Chocolatiere, the chocolate server. The logo was adopted by the Walter Baker company from a painting by Jean-Etienne Liotard. This first image is the shabby back cover of a booklet titled Choice Recipes by Miss Parloa and Other Noted Teachers that was published in 1908.
The second image is an advertising insert from the center of the same booklet.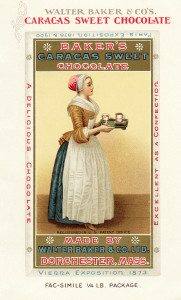 Click on images to enlarge.