This Victorian advertising card features a beautiful illustration of a bright yellow rose and rosebud at the right-hand side of an opened white envelope. Remnants of the broken wax seal are visible at the top and bottom curved edges of the envelope. A notepaper, with curled edges, is halfway out of the envelope, enough to reveal an illustration of a country scene in winter. The scene includes a tiny house built adjacent to a small fortress or look-out type of building. There are a few evergreen trees and shrubs, along with a few more barren trees, beside the house and fortress. The rooftop of the house and the ground are covered in snow. The edge of the forest is visible in the distant background.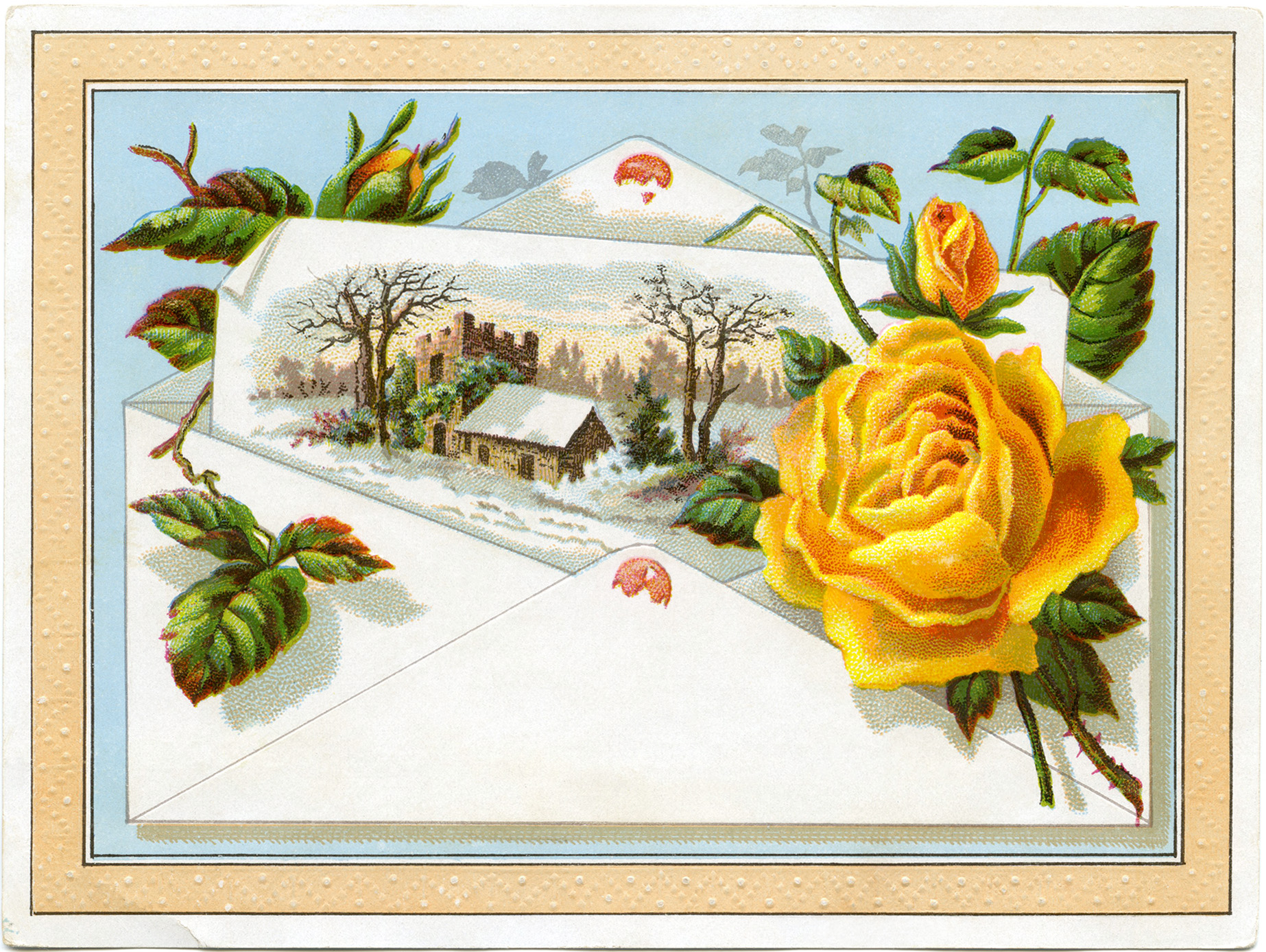 The right and the left sides of the envelope are framed with rose leaves and stems, and another rosebud is illustrated to the left of the envelope. The background of the scene is a lovely robin's egg blue color. The advertising card is trimmed with a nubby embossed pale-yellow edge.

Here is the shabby back of the yellow rose advertising card. The grungy marks were likely caused from old glue that once adhered this vintage card to a Victorian scrapbook album.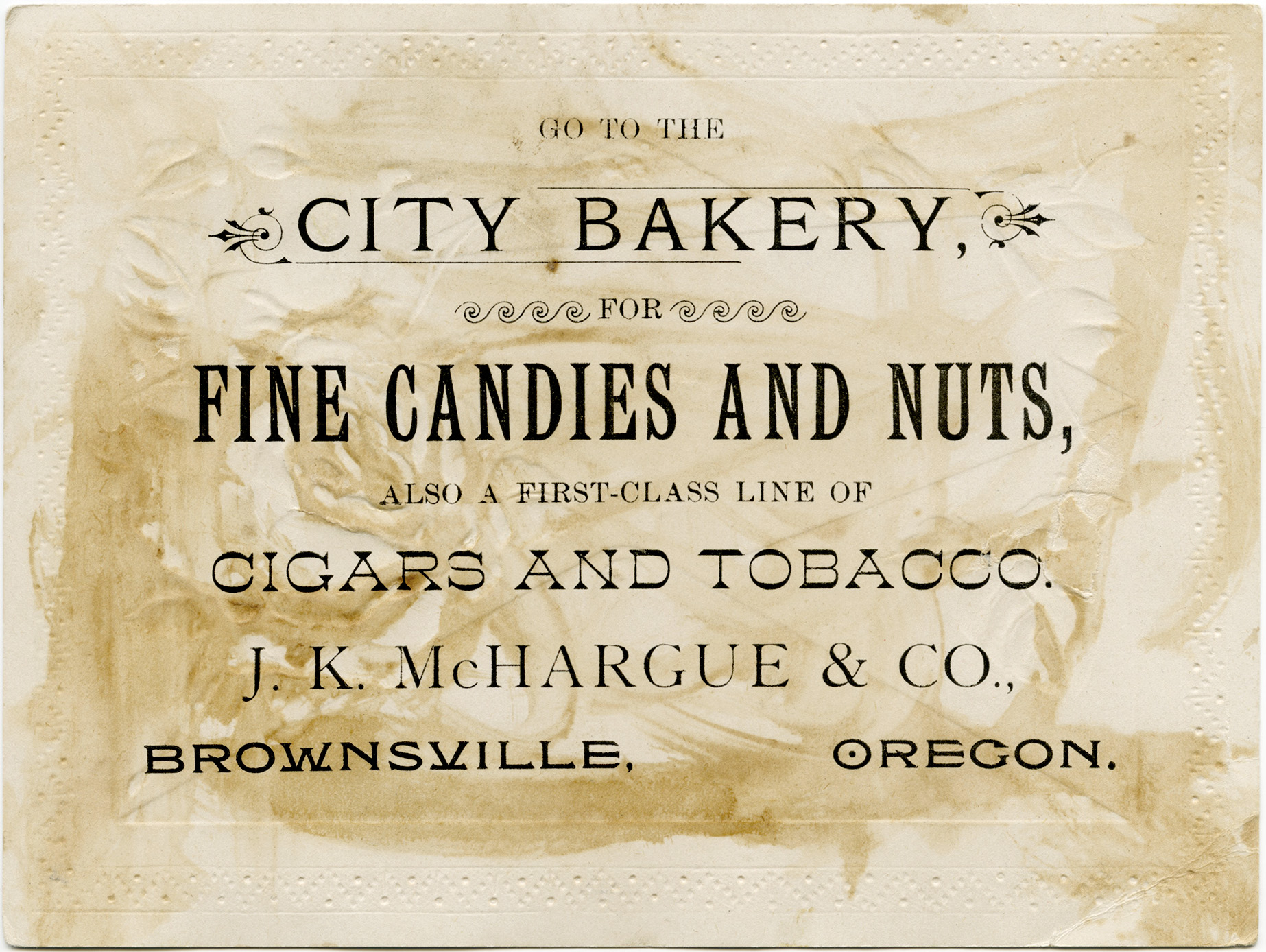 The advertising on the card reads:
GO TO THE
CITY BAKERY,
FOR
FINE CANDIES AND NUTS,
ALSO A FIRST-CLASS LINE OF
CIGARS AND TOBACCO.
J. K. McHARGUE & CO., BROWNSVILLE, OREGON.
– – – – – – – – – – – – – – – – – – – – – – – – – – – – – – – – – – – – – – – – – – – – – – – – – – – – – –
New in my Etsy shop this week is a printable set of ATC size cards. Each of the cards includes an illustration of a fern on a dictionary page. The set includes a printable sheet plus a zip folder with the individual files.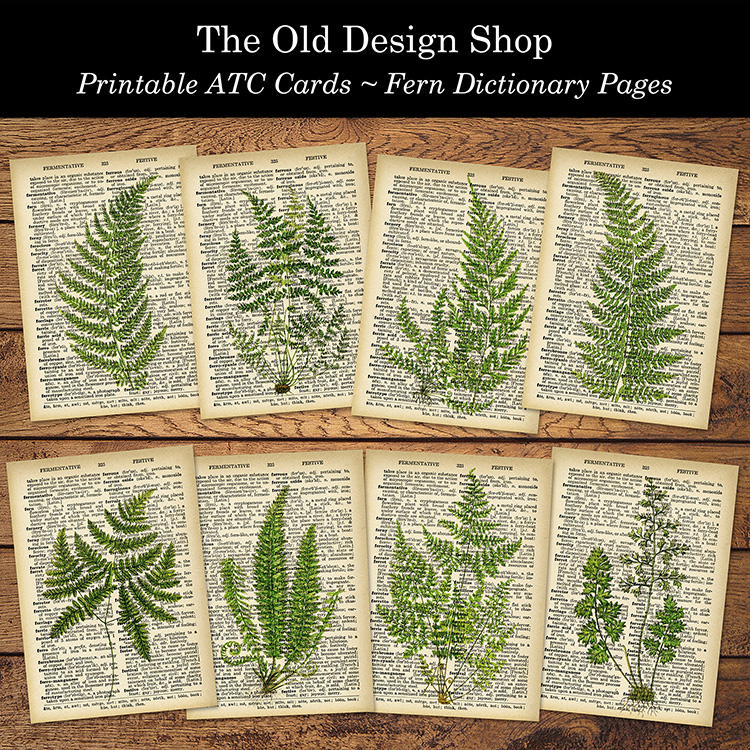 Preview image is linked to my Etsy shop.