This page is filled with nine illustrated styles of Victorian ladies' fashionable hats. Included on the page is: a ladies' carriage hat, ladies' theatre hat, ladies' large hat, ladies' velvet hat, young ladies' velvet hat, ladies' felt hat, and three young ladies' hats.
Here is a black and white version of each hat on one page.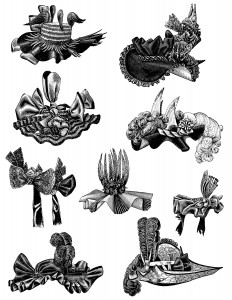 I scanned the original page from the November 1894 issue of The Delineator magazine.
Click on images to enlarge.