Here is a vintage magazine advertisement for a book titled The Pattern Cook-Book. The ad includes an illustration of a table setting complete with plates, glasses, cutlery and a centerpiece of flowers and candelabras. A variety of bottles and jugs are displayed on a sideboard behind the table.
Here is a black and white clip art version of the illustration from the ad.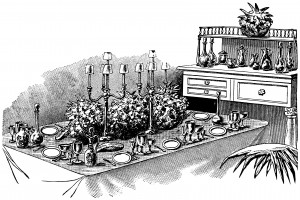 I scanned the original advertisement from the April 1892 issue of The Delineator magazine.
Click on images to enlarge.