In this fun vintage image by Charles Twelvetrees, a young boy is using a watering pail to pour water over his puppy. The caption below the image is, "This Makes Flowers Grow -So Of Course It Will Make Puppies Grow" The image is part of a collection of Twelvetrees' illustrations titled, "One of His Quiet Hours" from the October 1917 issue of Pictorial Review.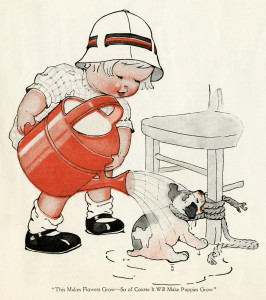 Here is a black and white clip art version.
Click on images to enlarge.