SHYNESS
This very modest-looking little maid
Never knows what it is to be afraid:
Should a spring bubble up across her way,
For help to ford it she will never stay,
But leaps right over it with secret joy;
Her gallant spirit might befit a boy.
Why does she droop her head so shyly now?
Because a wreath of roses crowns her brow!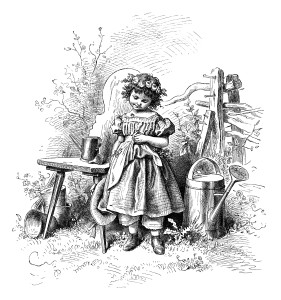 This adorable engraving and poem is from the book Little Folks and Little Friends by Oscar Pletsch, circa 1880. Click on image to enlarge.