I received a stack of old Norfolk and Western Railway Co. letters in the mail today. The stack is about 1″ thick so I didn't look at each letter individually but from a quick skim through it looks like they are dated between 1898 and 1920. Here is one dated November 20, 1901.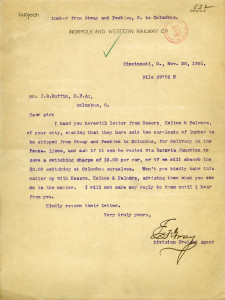 I'll upload more of the letters in the days or weeks ahead. Imagine the old typewriter this letter would have been typed on. It may have been one like this.
Click on image to enlarge.