This beautiful ornamental Victorian alphabet (initial script) was designed for engraving, fancy needlework, etc. Most of our modern-day alphabet is included on the two pages except the letters "X" and "I" or "J" Perhaps the letter included, whether it is intended to be an "I" or "J", is interchangeable.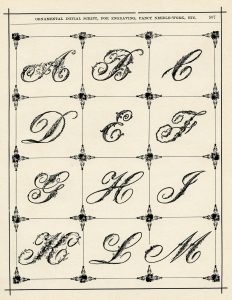 I scanned the original pages from Hill's Manual of Social and Business Forms, by Thos. E. Hill, 1886.
Click on images to enlarge.