Here is a two-page article on the etiquette of New Year's Calls. It was the Victorian era and the rules for social etiquette were much different than they are today. I first planned only to scan the decorative illustration from the first page but I thought some of you may enjoy reading (or working with) the article as well. The pages are from Gaskell's Compendium of Forms Educational Social Legal and Commercial by Prof. G. A. Gaskell, 1880.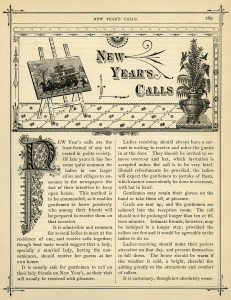 Here is a black and white clip art version of the illustration from the first page.
Click on images to enlarge.