This vintage fashion plate features two Victorian ladies at a formal party or ball. They are dressed in elegant, colorful gowns and one of the ladies is wearing a beautiful white cape over her outfit. Both ladies are wearing long white gloves and both are holding white fans. In this first version of the page, I've restored the illustration of the ladies but left the aged and worn edges intact.
Here is a second version with the illustration of the ladies on an off-white background.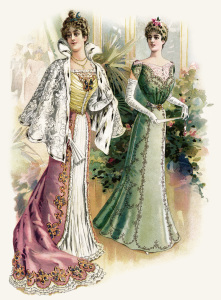 I scanned the page from the November 1899 issue of The Designer magazine.
Click on images to enlarge.