This vintage magazine clipping includes a variety of six beautiful embroidered monogram designs. The article includes instructions to transfer the designs with tissue paper but I'm thinking that modern-day transfer methods may be more efficient.
Here is a black and white clip art version of the monograms.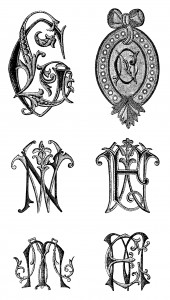 I scanned the original article from the January 1890 issue of the American Agriculturist magazine.
Click on images to enlarge.