This fun Kate Greenaway storybook illustration features an adorable Victorian girl leaning against a tree while many cats are coming to join her for tea.
The accompanying poem is:
WHAT did she see – oh, what did she see,
As she stood leaning against the tree?
Why, all the Cats had come to tea.
What a fine turn out – from round about,
All the houses had let them out,
And here they were with scamper and shout.
"Mew-mew-mew!" was all they could say,
And, "We hope you well to-day."
Oh, what should she do-oh, what should she do?
What a lot of milk they would get through;
For here they were with "Mew-mew-mew!"
She didn't know-oh she didn't know,
If bread and butter they'd like or no;
The might want little mice, oh! oh! oh!
Dear me-oh dear me,
All the cats had come to tea. 
Here is a cleaner version of the storybook illustration.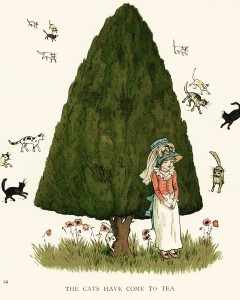 The image is from Marigold Garden by Kate Greenaway, circa 1892.
Click on images to enlarge.