Here is an illustration of a Victorian lady modelling a beautiful formal evening gown. The lady is holding a fan in her right hand and resting her left hand on the back of a chair. This illustration shows the back side view of her elegant outfit, which consists of a Ladies' Evening Waist and a Ladies' Skirt with Tunic Drapery. The image is from the November 1899 issue of The Designer magazine. 
Here is a black and white version.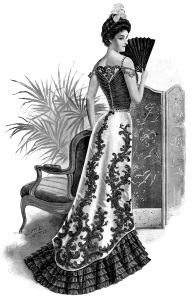 Click on image to enlarge.