"Bounce, Buckram!
Velvet's dear!
Christmas comes but once a year,
When it comes it brings good cheer,
BEEF, PLUM-PUDDING, MINCE-PIES, AND BEER!"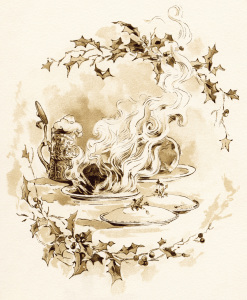 This wonderful image of a Christmas feast illustrates the last sentence from the vintage storybook, Tom Tucker and Little Bo Peep, by Thomas Hood, illustrated by Alice Wheaton Adams, published in 1891. The illustration is repeated on the well worn back cover of my copy of the book and I thought you might like to have that scan as well.
Click on images to enlarge.