This wonderfully aged and tattered vintage page of salad illustrations is from the Yacht Club Manual of Salads by Agnes Carroll Hayward. The booklet was published in 1914 to promote Yacht Club food products.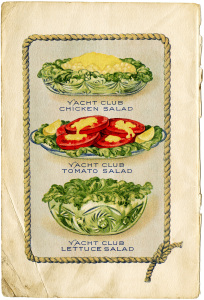 Here are cleaner versions of the images of salads from the page.
Yacht Club Chicken Salad:
Yacht Club Tomato Salad:
Yacht Club Lettuce Salad.
Click on images to enlarge.