Here is an interesting page, titled Social Observances, from a Victorian ladies' magazine. The page includes an illustration of two women, seated at a small table, drinking tea. The main article on the page gives detailed information regarding wedding customs of the day. One detail states that invitations should be sent out two weeks in advance. In our day, I can't imagine that many of the invited guests would have time to make necessary arrangements to attend a wedding if invitations were sent out two weeks in advance.
The page also includes replies to questions from correspondents from a previous issue of the magazine. Some interesting bits of advice given are: "Cards are left when attending a tea, because the hostess might not otherwise remember the guests who had been present, and when one attends, one wishes to have the credit of having called."; "…when staying at the house of a friend – it may not be the habit of a hostess to use fresh napkins at each meal"; and "It would not be proper for a girl to go on an excursion over-night with a party of friends, unless she is accompanied by her mother or some other older woman who would be equally careful as a chaperon and of whom her parents approve."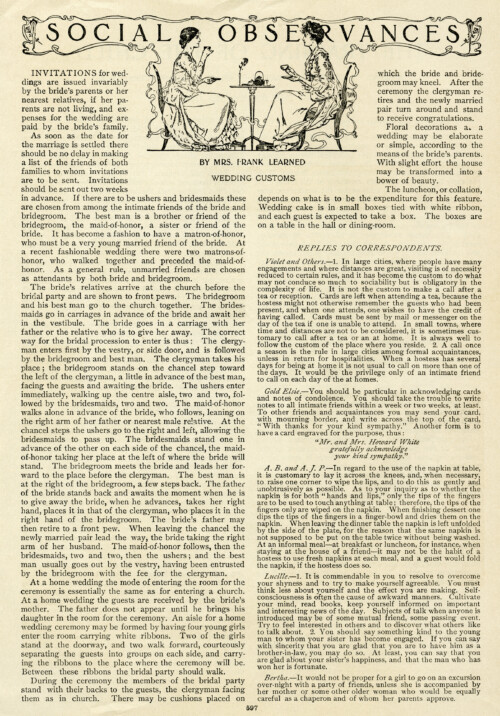 Here is a black and white clip art version of the illustration from the page.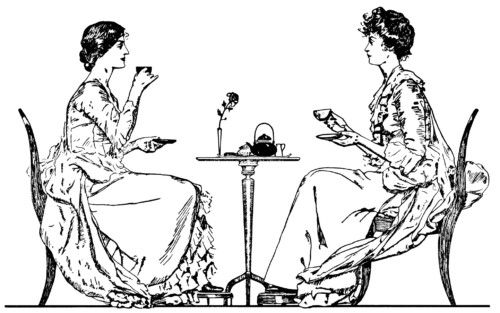 My original scan is from the October 1902 issue of The Delineator magazine.
Click on image to enlarge.