Here is a beautiful sample of ornamental typography. The page is titled Specimen of Ornamental Lettering Showing Use of Old English Text. I scanned the original from Hill's Manual of Social and Business Forms, by Thos. E. Hill. The book was published in 1886.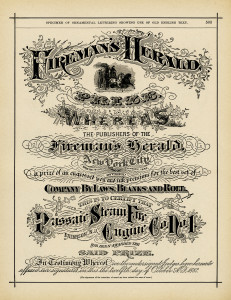 The wording on this beautiful specimen of ornamental typography is:
Fireman's Herald,
PRIZE.
WHEREAS
THE PUBLISHERS OF THE
Fireman's Herald,
OF
New York City
UPON THE 19TH DAY OF JANUARY, 1882
OFFERED
a prize of an engrossed pen and ink premium for the best set of
Company By Laws, Blanks and Roll.
THIS IS TO CERTIFY THAT
THE Passair Steam Fire
OF PATERSON, N. J. Engine Co. No. 1.
HAS BEEN AWARDED THE
SAID PRIZE.
In Testimony Whereof we the undersigned Judges have hereunto
affixed our signatures on this the twelfth day of October A.D., 1882.
(The signatures of the committee of award are here omitted for want of room.)
Click on image to enlarge.